Translations
Does your company have plans to expand to China or Japan and do you need Chinese or Japanese translations? Do not hesitate to contact us!
Chinese lessons
Just a while ago I met a manager of a Dutch company. He asked me: 'Why is it easy to get in contact with Chinese people, but hard to realise good collaboration and a lasting friendship?'
When you do not understand each other's culture and there is no effective communication, problems arise in collaboration.
Are you interested in the Chinese language and culture? Do you notice the Chinese language is used more frequently in your work environment? Then there is a good chance we can help you!
Accompaniment
When you have plans for a journey or business trip to China, it will help significantly if you learn some useful sentences beforehand. According to the goal of your travel, we can formulate a short training schedule that will be worth your effort.
During the Sino-Dutch Serious Games in Healthcare Symposium.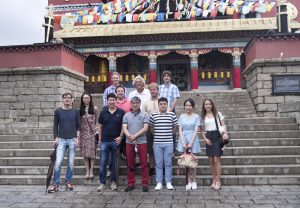 Accompanying a Dutch Delegation in Shenzhen.